Life comes at you quick, man. One minute, you're a middle schooler thinking about joining a Little League team and the next, your college buddy is asking you to coach his son's Little League team. Resist. Save your pennies, renew your passport, and book your flights.
These are the 10 best places to travel before your life starts to suck:
1. Dubai Deserts
Put your toes in the sand… but don't forget your bars of gold. The dollar doesn't go as far in Dubai. Still, with some of the most astonishing architecture in the world, astounding levels of wealth, and a vast desert just a short safari drive away, what are you waiting for? A first class ticket? Even if you have to fly Economy, it's time to head to the deserts of Dubai. Take a ride on the wild side – we've got your camel waiting.
2. Thailand Beaches
Grab your passport, and maybe your vaccination records. So you're no Leo, and we're pretty sure that you wouldn't really swim all the way out to a deserted island with a pair of strangers. But don't let the threat of drinking snake blood stop you from exploring Thailand; specifically, set out to conquer those stunning Thai beaches.
3. Germany's Oktoberfest
The traditional German tradition of drinking beer from giant steins served by well-endowed waitresses in charming folksy uniforms didn't start out to earn the reputation as Europe's most wildly fun annual extravaganza, but who are we to argue with the people? And in case you need any further Oktoberfest enthusiasm, just remember: beer. goggles.
4. Las Vegas Strip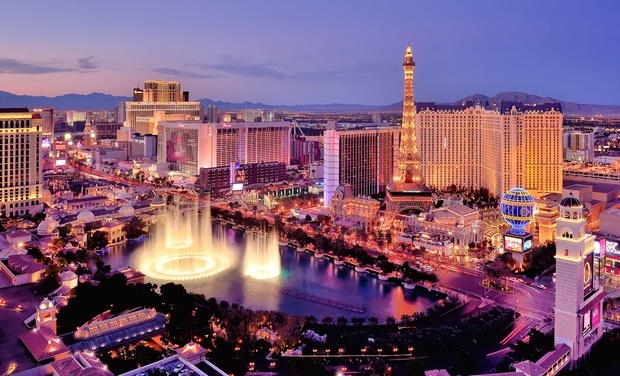 You might think that you know what the experience of walking the Vegas Strip is going to be like, but until you've spent time on the ground, it's just an urban legend. You have to sell the lights, roll the dice, get handed those cards advertising ladies of the night and then immediately throw them away… it's Vegas, and there is nothing quite like it. Where else can you drink at a bar made of ice, win a grand, skydive, and watch Britney Spears shimmy all in one afternoon?
5. New York City Pizza Shops
Sure, they're not as grand as some of the other destinations on this list. But you show me a man who has ridden a camel in Dubai and hasn't debated between NYC pizza counters, and I'll show you a man who has never truly lived. Whether you go in for Famous Ray's or some other, sub-par joint, you should have the experience of eating a slice the size of a dinner plate while standing near a subway grate at least once in your life.
6. Parisian Cafes
A palate cleanser after the greasy delight of New York Pizza, Parisian cafes all have a few things in common: strong espresso. A large selection of wine and cheese. A certain commitment to the world before we all learned that cigarettes are bad for us. Don't breathe in for too long while you're there, but try to soak up the chic Parisian atmosphere nonetheless- there's really nothing quite like people so pleased with themselves as the French.
7. The Sydney Opera House
According to some onlookers, it resembles a giant box of Kleenex; to the rest of us, it is a symbol of some of the most moving music and art of our times. The Sydney Opera House overlooks Sydney Harbor, so visiting this famous landmark means heading to Australia and immersing yourself in the culture from Down Under. Go diving on the Great Barrier Reef, if you must, but please be careful; humans are destroying it! Better to view from a helicopter, instead. Now THAT sounds like a life that doesn't suck yet.
8. Machu Picchu Mountains
Paying homage to our ancestors and the civilizations who existed before us could fill this list with places to visit. The really advantage to visiting Machu Picchu, of course, is that not only are the ruins old and educational and all that, but they're also gorgeous. And a killer, scary workout that involves narrow stairs and hopefully is only undertaken by people who do not have vertigo. This is the most adventurous stop on our list, and it's probably the most breathtaking to behold.
9. This Maldives Underwater Hotel
Not only is the hotel real, amazing, and accessible, it's a Hilton property. Got us again, Paris. There's no way we wouldn't be at least a little bit freaked out to be sleeping below a panel of glass and who knows how many gallons of water and, you know, sealife – but the chances of our saving up for a trip to the Maldives are slim, so it's all good. You, though? Your life doesn't suck yet. Get out there are be one with the fishes.
10. Norway's Northern Lights
Ok, we take it back, THIS is the most breath-taking sight on our list. Come on, though; the rest of these places don't stand a chance. A natural phenomenon that will make you feel like you're tripping? And it's legal? And it's in a country with amazing topography, lakes and cities to explore? Everyone, let's book a passenger van and backpack around Norway! Who's coming' with me?