So it's that time again. Your girlfriend/wife/daughter/partner wants to go to Disney. Something inside your stomach drops. Your skin begins to boil. You are angry just at the thought of the big swirly 'D." But, what exactly is it about Disney that you hate? Let us break it down for you so you are ready to explain these truths to your Disney lover.
The Drive
The car is loaded, your trunk is overpacked, and you are ready to hit the road. But who has to drive to the "happiest place on Earth?" This guy. As soon as she decided on this trip there was a responsibility added to your to-do list that you didn't need. Maybe she will be kind enough to let you DJ and play Jimmy Buffett until you drift away to your own happy place. But if you have kids, prepare to "Let it Go," the entire cruise down the highway.
The Parking Lot
If you are lucky enough to make it to the parking lot before 9AM, you'll find it looking like this:
If you arrive after 9:30…
I need not say more. You might as well be trying to find Waldo as you search for your SUV in the sea of minivans.
And let's not even discuss how frustrating it is to deal with this guy, everyone knows this guy: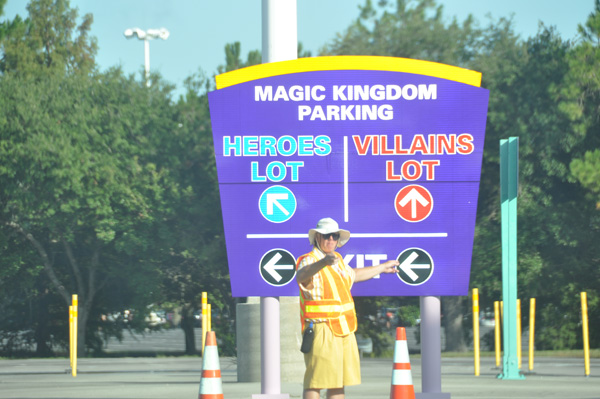 Long Lines
And now for the real bummer about going to Disney, the never-ending lines. Make sure to switch that fitbit on, you're going for a new record today. Let's just talk about the Magic Kingdom for a second. You have to wait in the carline to pay for parking, then you have to wait in a line just to get on the trolley that will take you to the actual entrance of the park. Let's assume you were smart enough to order your magic bands to your house, now you have to wait in a line for either the Ferry or Monorail to take you to the real park entrance. Now that you have finally arrived at the Magic Kingdom an hour or more later, you must now wait in line to get in. You must wait in line to take a picture. You must wait in line for every ride. And the lines are endless, and infuriating. And if that rude person behind you pushes you in the back one more time…
The Crowds
There are two types of crowds in the world, the type that sit together at a ball game, and the type that would run over your toddler if it meant they got to take a picture with a college intern in a costume. On a scale of one to Black Friday in Manhattan, put your kids on your shoulders, help them survive the hordes.
The Money
Let's face it. Disney is the most expensive headache you will ever pay for. Would you pay $12 for a handful of chicken nuggets? Chances are you don't pay $12 for a bag of chicken nuggets. But guess what, you are in Disney and you don't have a choice. Disney World, where it cost the same for a Floridian to purchase an annual pass as it costs anyone else to visit for a single weekend. Sure, it might be the happiest place in the world for them, but it is not a happy place for your wallet. Get ready to buy all of those ride pictures you look miserable in! So put on your backwards college cap, and your darkest sunglasses. You don't want to be the reason they don't enjoy this trip, you're the one paying for it.